D series rooting (arm cpu architecture only) UPDATE!
Posted: Sat Nov 19, 2011 8:59 pm
This is thread for D series arm hack update.
Firstly you have to
install SamyGO hack
from our develop server and then look this thread for updates.
What`s new
-Added posibility to play nondrm recorded files with are recorded on another device wherre drm is previusly disabled. (another samsnungs tv/bd) .
-Added posibility to record to any non XFS formated USB device, (also NFS mounted device to USB Viritual device)
if you use nfs recording, you dont need anymore remini script etc..., just mount your hdd to samygo viritual usb (in root)
attention, usb devices can be used for recording only if they are inserted after you execute SamyGO App (launcher), due samsungs limitation whitch are by this update removed (like SamyGO Virt. USB).
known bugs :
playing DRM recorded contents from another device still need to be don.
if you want to play your old recorded contents whitch are DRM Protected please make sure you enable drm by separate application (PVR_Switcher DRM On/Off) after execute main SamyGO app.
by executing again of same app, you will disable drm.
i
nstall instructions:
connect FTP to TV
extract SamyGO_Genoa.zip
you will find 2 subfloders
SamyGO and PVR_Switcher
go to dir
/mtd_down/widgets/user/SamyGO
copy SamyGO/game.so (this is the main patcher and loader) from unziped file to /mtd_down/widgets/user/SamyGO directory
go to dir
/mtd_down/widgets/user/
copy PVR_Switcher directory to /mtd_down/widgets/user/
by Samba access , same way, make sure you seted up root tree access posibility in samba config,
then type \\ip_of_tv\mtd_down\widgets\user and u are in correct directory, move files in needed directory.
wait a one minute before reboot TV that flash finish writing internal.
reboot tv and enjoy
if something goes wrong , resync App like first time and try again.
EDIT ON 22.12.2011
Added Big Yellow Font patch for Subtitle , size of font seted to 0x25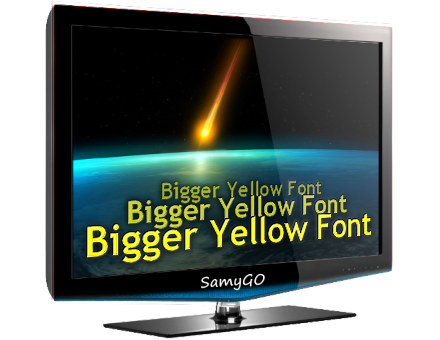 Added ChannelInfo refers to McFly?s Standalone App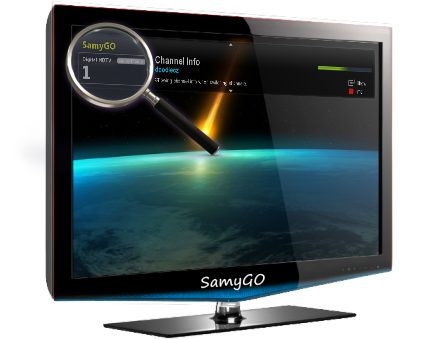 Code: Select all
http://www.multiupload.com/ES7SQGH6SV

EDIT OFF