Hi guys, I would like to thank you all for that forum and tell you my experience with my
B serie
LE32B550
.
1st of all I wrongly tryed to enable movie playback using model UE32B7000 and obviously I bricked it... I recovered it using the "remove internal flat cable" method and then changing it to LE32B650 to have movie playback. The procedure I followed to
succesfully
unbrick and set the B650 model is this:
-1- Disconnect the power cable
-2- (if you use a CI+ PMCIA card)remove the CI+ module
-3- Remove all the screws form the back-end (they are 12)
-4- Remove the flat cable on the mainbord (see image below - the cable is on the right - if you cannot see it here in the forum save the image and open it with your preferred pics viewer - to unplug it simply press the lateral small plastic wings and pull it backwards):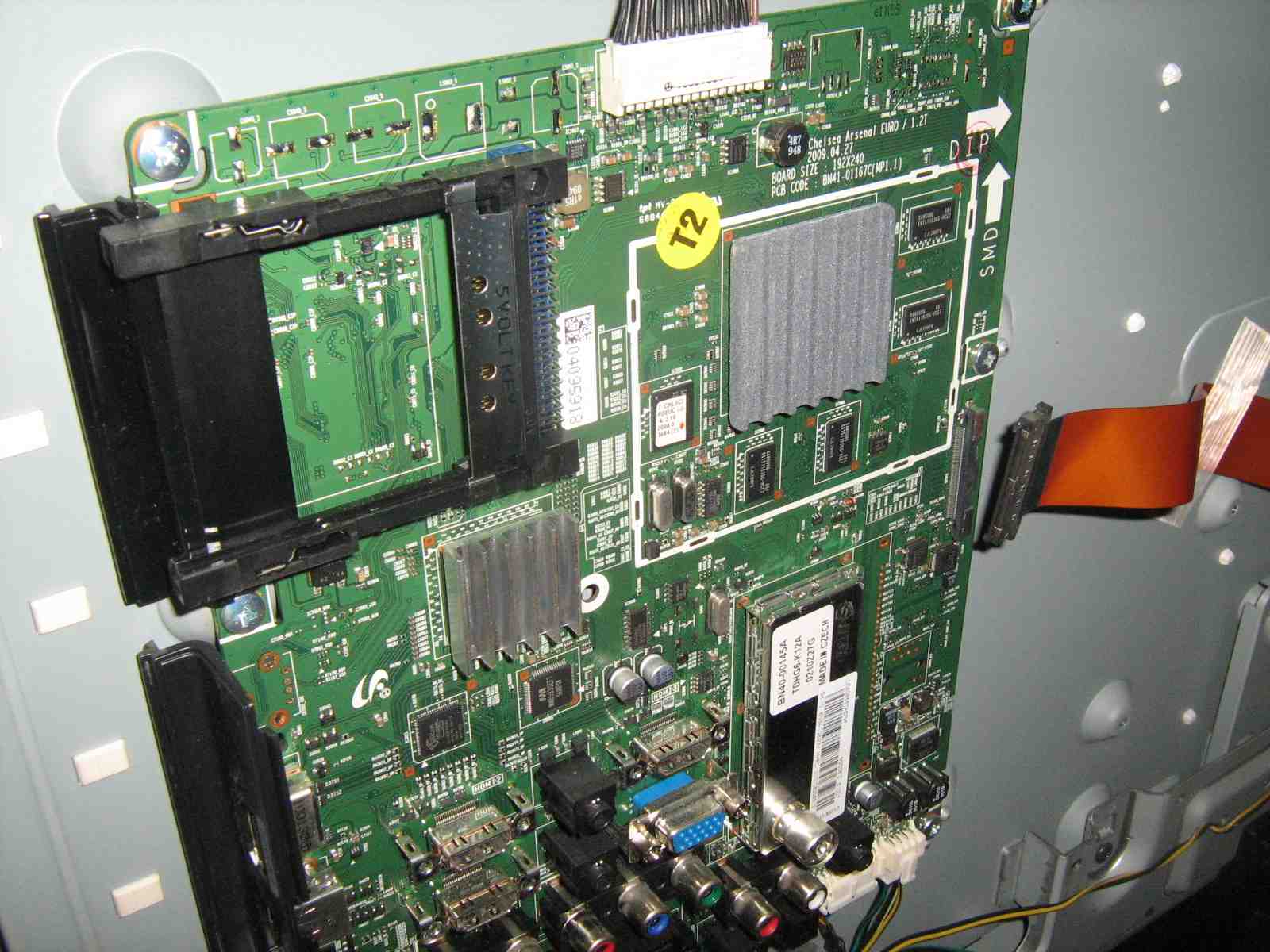 -5- Plugin the powercable (TV is now on standby)
-6- Insert the code for getting into the service menu (info+menu+mute+power)
-7- the tv starts and the service menu shows up (you cannot see it)
-8- Now carefully connect the the lcd flat cable back to the main board (be very careful, the tv is stil powered up!) and you will se the menu !
-9- Now, recover the model number (in my case LB550)
-10- now save by shutting tv down
(found it there:
http://www.avforums.com/forums/lcd-led- ... 2-a-7.html
)
My TV factory firmware is:
T-CHELEU-1017
T-CHL5DEUC-2010.1
T-CHL5DEUS-1007
..................
Factoty Data Ver: 612
Date of purchase: 7/6/2010
I never updated it (I think it is the latest firmware version).
Now I would like to re-activate the Content Library menu and I want to ask you "gurus" if reverting back firmware using this thread "technique" will re-enable the Content Library... I read MANY threads of this forum but I did not read any clear answer to this question:
Has LE32B550 a Content Library ? Is this Content Library only present in older firmwares of is it totally absent from that TV model independat from firmware version ?
I would not like to start this risky procedure and discover that no Content Library is possible for that tv...
The last question is: if Content Library was NEVER present in that TV model, is it technically impossible to have it reprogramming the firmware ?
Sorry if answers are spread-written in the forums, I really spent lot of time reading many thread since yesterday without having a clear answer... thank you very very much for your support !